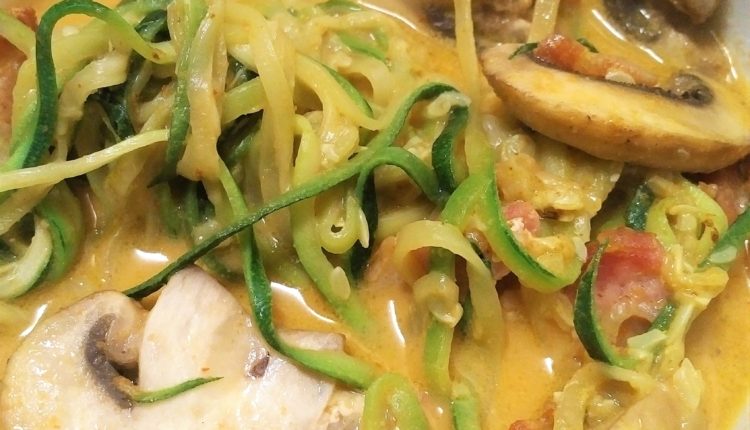 Low-Carb, Low-Calorie, And Fiber Packed Flavorful Lunch Bowl In Under 15 Min
If you're considering going "lighter" on carbs, either to loose weight or to maintain your current weight, this flavorful lunch bowl might just be the answer: Simple preparation & cooking steps, and inexpensive ingredients you can find in any supermarket. This Bacon Mushroom Red Curry Zucchini Bowl recipe doesn't require any special equipment, and it's so easy, even a complete beginner in the kitchen can master the recipe.
For one serving you'll need:
1 tbsp diced fresh onion
2/3 cup sliced mushrooms
2-3 slices cured bacon, diced
half medium green (or yellow) zucchini, sperilized (optional)
2/3 cup almond milk
1/2 tbsp Thai Kitchen Red Curry Paste
Preparation and cooking steps:
In a frying pan, over medium heat, fry diced bacon for about 3-4 min turning occasionally. We won't be adding any oil for frying to the pan because fat melted out of our bacon is more than enough for this recipe.
Add mushrooms. Don't rush to stir! Let the mushrooms fry till nicely golden. Add onion to the pan.
Professional cooking tip: Don't add salt when frying mushrooms till the very last step. When salt is added, mushrooms will release water and you'll be steaming mushrooms, instead of frying them
3. Add zucchini, fry for about another 3 min.
4. Add red curry paste, mix well. Add almond milk, cover with lid and bring to boil. Simmer for about 2 min, stirring occasionally. Turn off the stove and serve!
Enjoy your Bacon and Mushrooms Red Curry Zucchini Noodles Bowl and Share with you friend who will also love the low-calorie flavorful recipe!!!!