This easy-to-follow antique potato croquettes recipe is from the original Fannie Farmer Entrees cookbook, published in 1896. Farmer's cookbooks were among the first cookbooks by American authors to become bestsellers.
The potato croquettes are a great side dish that can be served with your favorite dips. Croquettes could also easily be converted into a main dish by adding fresh greens side salad and a protein of your choice.
You can freeze potato croquettes to make additives- and preservatives-free, ready to be cooked later meal.
Ingredients
2 cups hot riced potato (about 2-3 potatoes, instructions on how to make riced potatoes are below)
2 tablespoons butter 
½ teaspoon salt
1/8 teaspoon pepper
¼ celery salt 
Few grains cayenne
Few drops onion juice
1 egg yolk 
1 teaspoon finely chopped parsley
Egg for dipping
Bread crumbs
oil for frying
To make riced potato
Force peeled hot boiled potatoes into coarse strainer or in potato ricer.
You can also grate potato on a cheese grater.
To make potato croquettes
Mix ingredients in order given except for egg for dipping and bread crumbs. Beat thoroughly. 
Shape, dip in crumbs, then egg, then crumbs again. Deep fry in oil for 1 minute then drain on a paper.
Pro-tip from
Fannie Farmer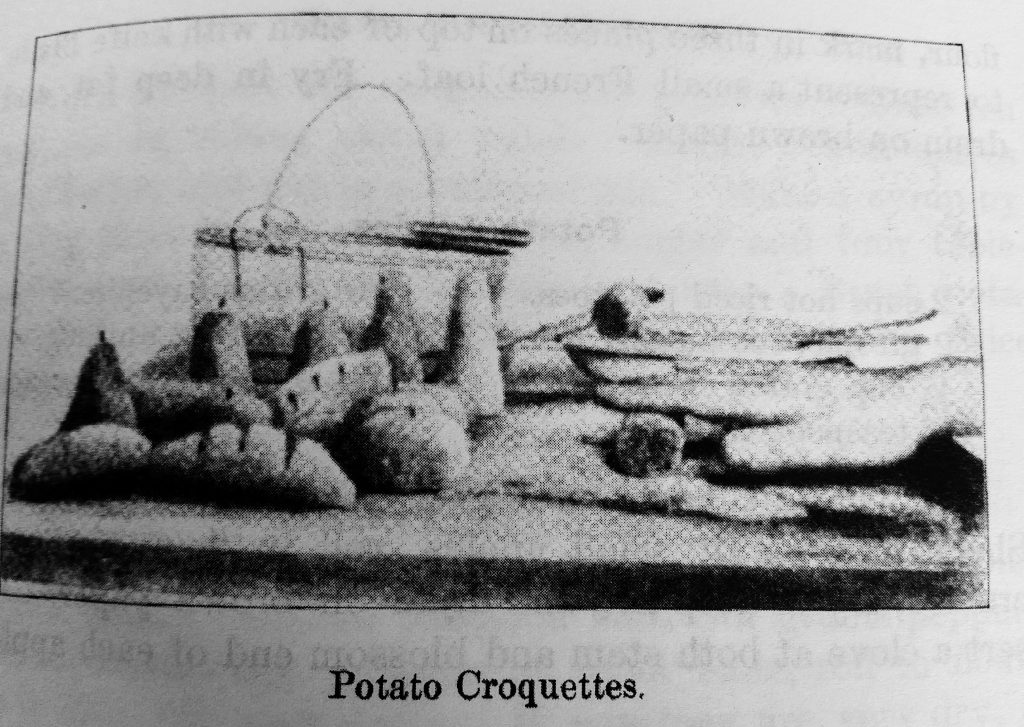 Croquettes are shaped in a variety of forms. The most common way is to first form a smooth ball by rolling one rounding tablespoon mixture between hands. Then roll on a board until desired length, end flatten ends.
The antique potato croquettes recipe review
I love these potato croquettes texture: crunchy on the outside and smooth on the inside.
If you're not serving the croquettes with your favorites choices of dips, I would definitely recommend adding more spices to the potato mixture, because flavor-wise, potato croquettes are a bit on a bland side.
Trending now: