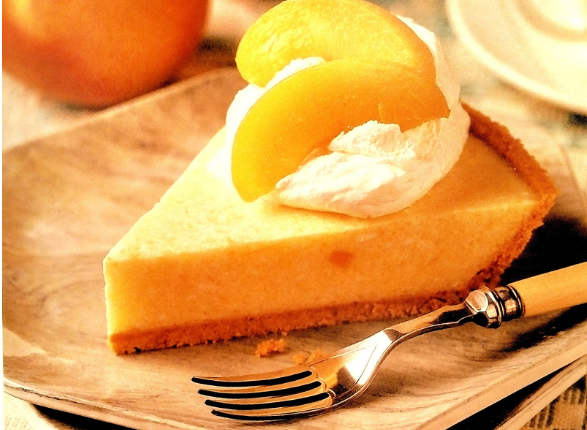 Vintage no Bake Peach Cheesecake
Usually cheesecakes are baked, but this one only takes a place to melt butter, a place to stream the peach juice and 1 night to settle the pie. This recipe is from about 100 years ago and it was past down from parent to child for at least 3 generations.
Prep time: 25 min plus overnight chilling time
Cook time: 5 min
You will need:
4 oz graham crackers 
2 oz butter
1/4 tsp ground cinnamon
For filling:
840 grams peaches canned 
2 oz sugar
1 packet flavored gelatin (or unflavored but add juice instead of water when mixing)
12 oz cream cheese
½ lemon (turned into juice)
3 tbsp sour cream
Directions:
Place the graham crackers in a plastic bag and crush them into powder, melt the butter and mix together with the cinnamon and pour into the graham and stir. Place into a greased pie pan and press onto the sides and base to form a pie shape. 
For the filling, drain the peaches and  save the juice for later, puree a little over half of the peaches (you can do this by putting them in a food processor or blender) just until smooth. Put the sugar and reserved peach juice in a pot, set over half full pot/pan simmering with water and wait till thickened. Add the gelatin and stir for 3 minutes remove from heat put the cream cheese in a large bowl add the lemon juice and the reserved peach mixture: fold in the cream and peach puree mix with a mixer (or if really desired you can hand mix) then spoon into the tin. Cover and chill overnight. When serving take out the cake and place the remaining peaches on top.
Enjoy!!