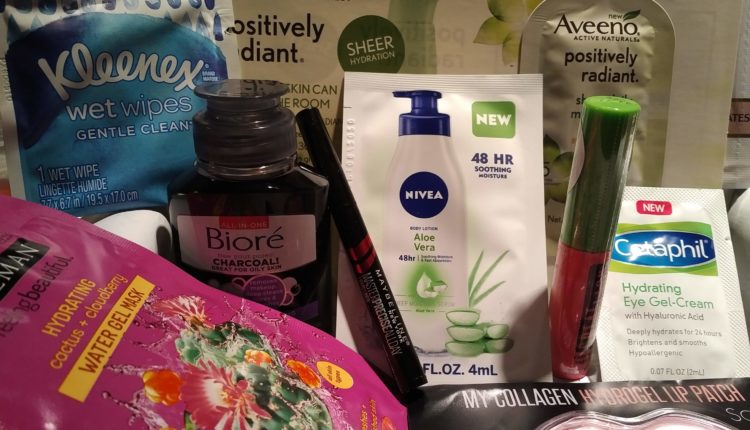 Walmart Beauty Trendsetter Box, Fall 2018 Full Review
$5 quarterly beauty box, check out everything you'll get with Fall 2018 box
Walmart quarterly beauty box comes in two versions: Classic and Trendsetter. Classic is catered towards women 35+ and the Trendsetter is for women in their 20s. The Trendsetter box might contain bolder color pallets, and things like fake nails. The Classic beauty box normally contains more anti-aging skincare samples.
Here is everything in the Walmart 
Trendsetter 

Beauty Box 

Fall 2018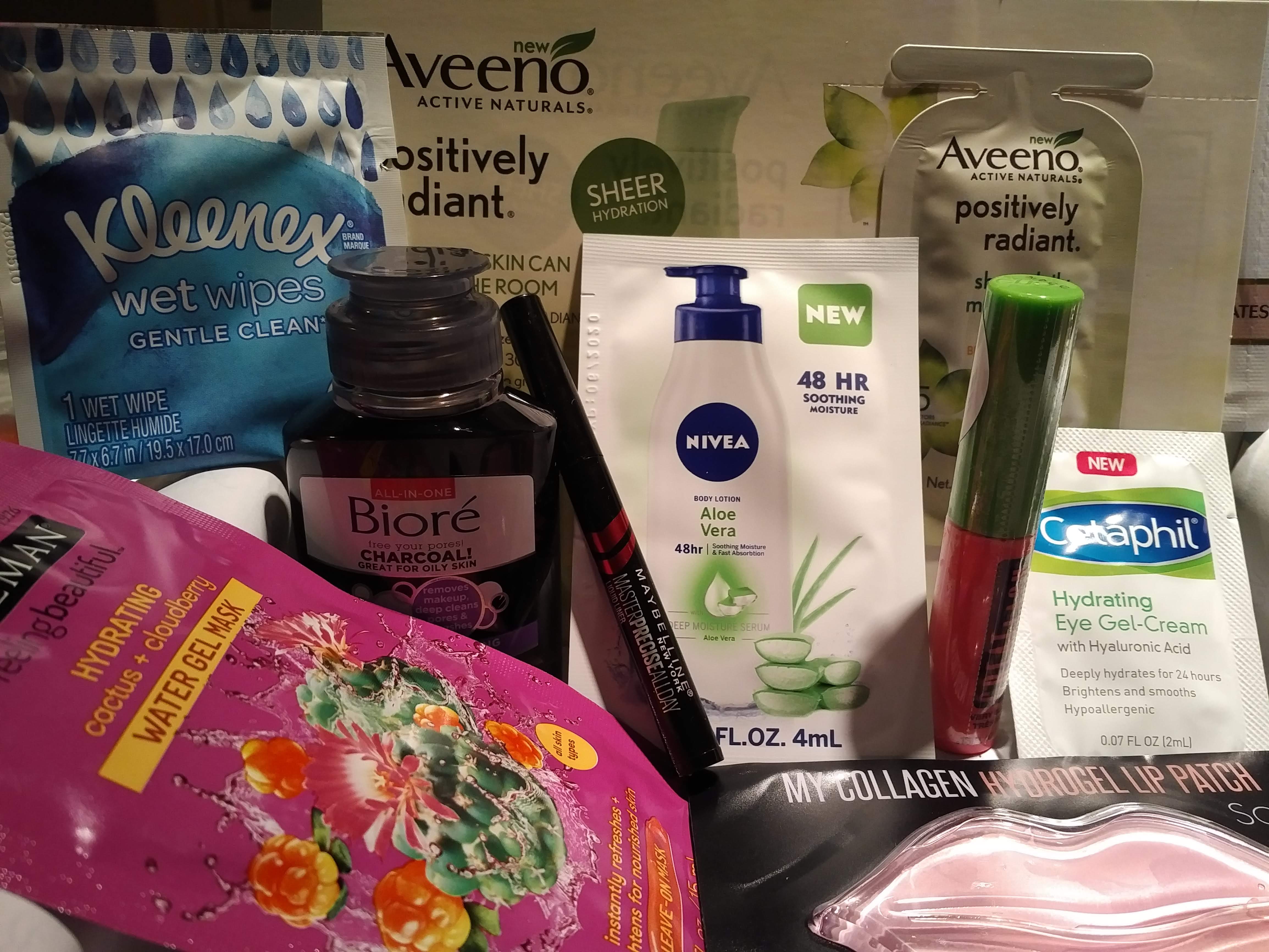 Plus two sachet samples of Garnier Whole Blends Shampoo + Conditioner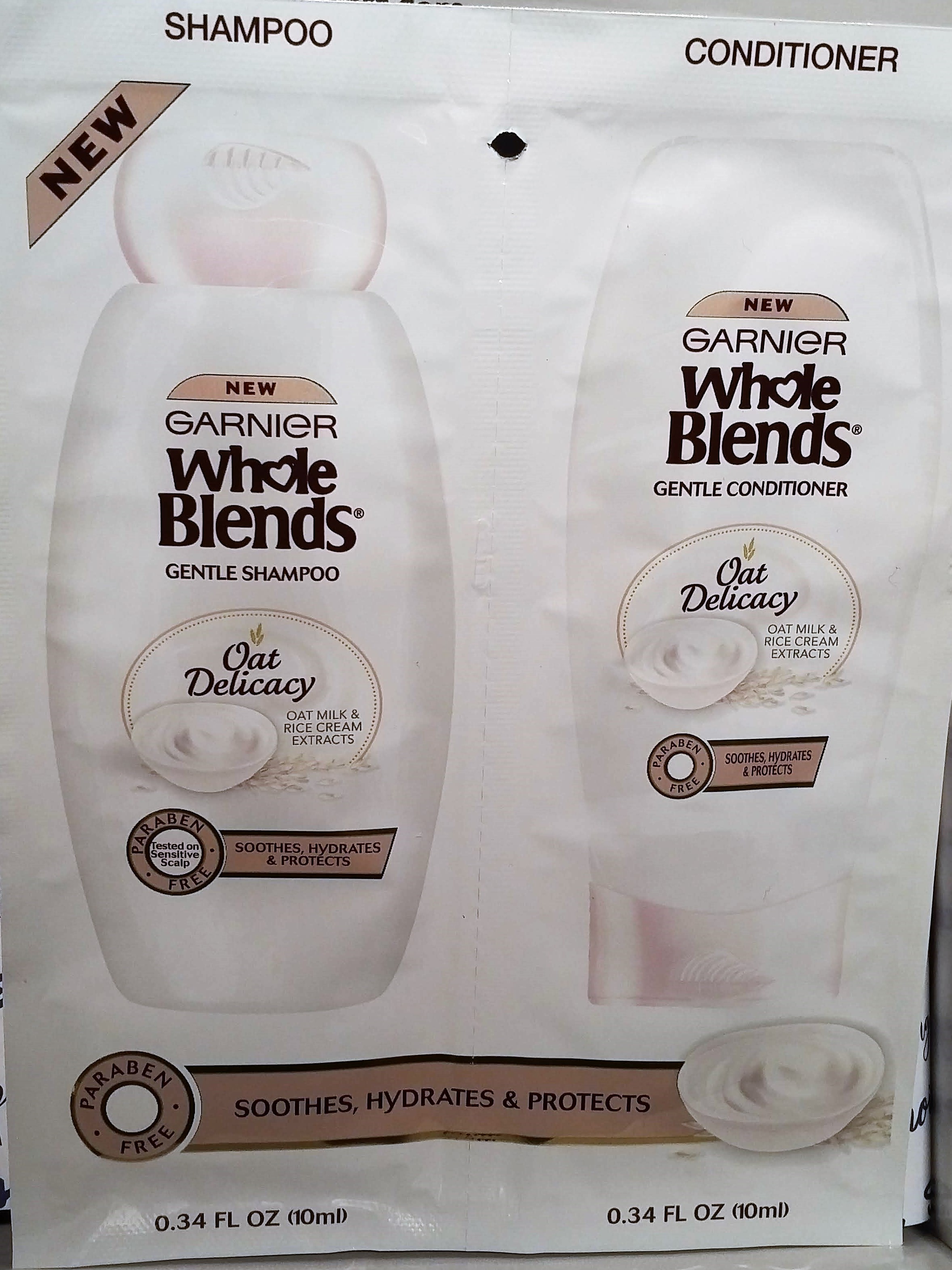 The full inventory of the items in this beauty box:
Aveeno Positively Radiant SPF 30, sample sachet
Hydrating Face and Neck Mask, one full size packet. I tried it on as both face and neck mask. It takes about half packet for one use.
My Collagen Hydrogel Lip Patch, made in Korea. It's a silicon-like patch, shaped as lips. It's about 3 inch wide, 2 inch tall nourishing and plumping patch. I haven't noticed dramatic difference after one use, but lips definitely felt smoother and a bit plumper. I've never tried a lip patch before and have nothing for comparison. I did feel very posh applying the mask though 🙂
Cetaphil Hydrating Eye Gel-Cream, one sachet.
Garnier Whole Blends Shampoo + Conditioner, two sachets (one of each). Liked it, hair felt silky and smooth. Wish the ingredients list was shorter.
Kleenex Wet Wipes, 1 wipe
Maybelline Great Lash Mascara, deluxe sample. I really like this mascara, have bought it couple of times and was happy to see it in the box.
Maybelline Black Eyeliner. Very fine tip eyeliner, I love how easy the application is. It did smudge when I gave it a rub. So it's not 24H formula, but, I have to say, I like it: Easy to remove with any makeup remover, and the precision of application is top notch.
Biore Charcoal Cleansing Micellar Water, deluxe sample.
Nivea Aloe Vera Body Moisturizer. I wish there was a little less alcohol in the formula.
What about your box? Have you receive the same content?