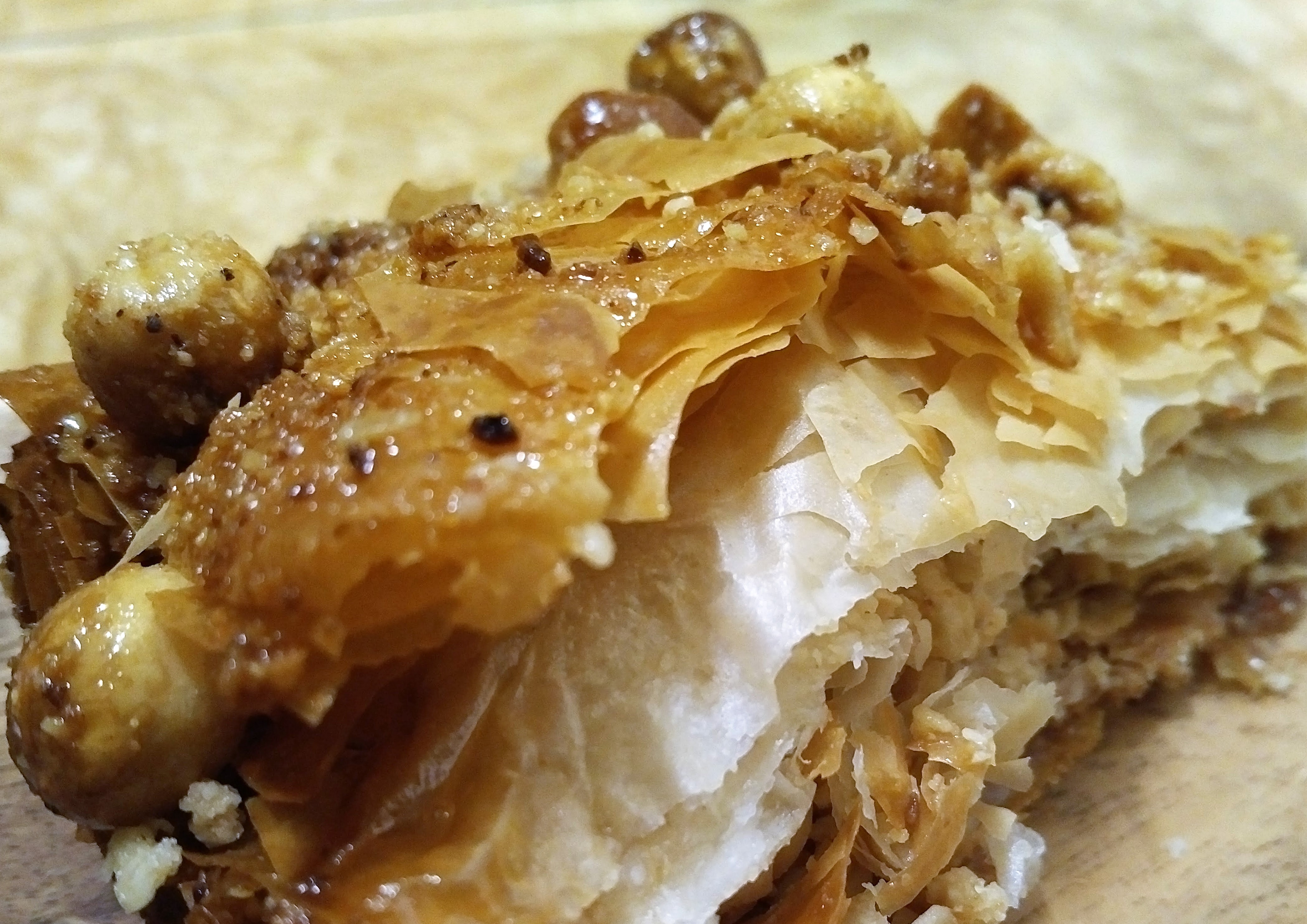 Simple Homemade Hazelnut Baklava
There is a few centuries long debate going on whether baklava is Greek or Turkish. I grew up eating Turkish baklava and this is the recipe my family loves the most.
It's very, very sweet dessert. Best served with strong Turkish coffee or black tea with a hint of cardamom or bergamot (Earl Grey or Lady Grey black tea).
You'll need:
1/2 package phyllo dough (8 oz). Thaw at room temperature for about 1.5 or leave in the fridge overnight.
2 cups chopped hazelnut (feel free to use less, I'm nuts addict)
1 stick unsalted butter
3/4 cup water
1/3 -1/2 cup sugar (depending on sweetness of your tooth)
1/2 – 3/4 cup honey (depending on sweetness of your tooth)
dash of cardamom (optional)
cooking oil or spray to grease baking pan
Directions
1. Preheat oven to 375 degrees. Butter the bottoms and sides of a pan. I use 9×13 inch as it's normally the exact size of phyllo dough sheets.
2. Toss hazelnuts with a dash of cardamom.
3. Place one sheet of the phyllo dough in pan, butter with brush thoroughly. This step insures delightful crispiness of the baklava layers. Repeat until you have six sheets layered. Sprinkle about 1/3 of the entire nut mixture on top. Top with five-six sheets of dough, buttering each one of them. Sprinkle with another 1/3 of nut mixture. Top with six-eight sheets buttered sheets again and sprinkle with remaining nuts.
Tip: I leave a few nuts chopped for the top layer to add some garnish a-like.
4. Cut baklava into about square inch portions with a very sharp knife. I like cutting it with silicone spatula after the baklava is baked as it doesn't scratch baking pan, but the spatula method will produce slightly larger pieces (which is a plus in my family).
5. Bake for about 30-35 minutes until baklava is golden and crispy looking.
6. In a meantime let's make the baklava sweet syrup-sauce. Bring water to a boil, add sugar. Simmer for about 7-10 min stirring occasionally. Put aside.  Add honey and stir well.
7. Remove baklava from oven and pour syrup-sauce over it. Be careful, it might splatter. Let cool.
Serve and enjoy!