New York City life bustles outside — car horns, an occasional shout, the general urban hum. But inside the apartment, a soothing opposite — gentle Chinese music plays as painter Xiaoping Chen sits with legs folded on top of each other in effortless full lotus, emanating tranquility like a still pond.
"Being artists, we can only elevate our spiritual realms with a more humble attitude toward divinity — the only way to portray those sacred images," says Chen, the classical Chinese painter who later adopted Western techniques and mesmerized the world with her dramatic oil paintings.
Chen's sincere pursuit has garnered her worldwide acclaim: in 1998, the governor of the Northern Mariana Islands awarded her the title of "Outstanding Artist"; in 2009 and 2011, she earned gold medals at the 2nd and 3rd International Figure Painting Competitions hosted by the US-based Chinese TV network NTD Television. But acclaim has never been her purpose as Chen believes artists have a responsibility to serve society, a role that requires devotion to more than just technical skill.
Art Aspirations From Within
At the age of 6 in China, Chen busied herself drawing while "other kids were playing outside," she says with a laugh. Her father, a school teacher, recognized his daughter's love for drawing and took her to an art teacher who saw an innate gift in the young Chen, a surprising talent no one else in her family shared.
The first step in learning classical Chinese painting was studying calligraphy, an art rooted in internal expression — the essence of Chinese art.
"I had a feeling that the more accomplished the artists were, the loftier were their virtues," Chen says. Her famous calligraphy mentor embodied this perspective. "Although I was young, I could still feel he was different from others. He had a lofty and tranquil air, not caring much about fame and wealth."
His calligraphy reminded Chen of the ancient Chinese scholars, whose "quiet bearing cannot be imitated." Bearing, a concept that permeates all Chinese art, from painting to dance to kung fu, emphasizes the inner spirit as the starting point of the craft. From one's heart and inner character flows forth creativity, initiating a calligraphy stroke or a pirouette. It's a quality that can't be faked, as the art becomes an extension or reflection of the artist's inner fiber.
By the time Chen turned 15, she had developed a solid grasp of calligraphy and painting and embarked on the soulful medium of landscape painting, a journey that would allow her to explore symbolic harmony of heaven and earth and man's quest for immortality. But it wasn't until her family decided to leave China that she discovered her true calling, unveiling an even greater potential.
True Home of the Artists
In 1992, after high school, Chen immigrated to Saipan in the North Pacific with her parents, where she attended the Northern Marianas College to further her already impressive art studies. "When I applied to study in the college with my portfolio, the interviewers thought I was applying for a teaching job, after seeing my paintings," Chen says, smiling.
As she rushed around preparing art exhibitions, Chen walked past big groups of Chinese people practicing slow-moving meditation exercises by the sea. One day, her father stopped off and spoke with the practitioners, who gave him Zhuan Falun, the main book of the ancient practice system called Falun Dafa.
Zhuan Falun answered many age-old questions about the meaning of life, and her father believed it was a divine book, inspiring him to start practicing with the group. Soon after, Chen's younger brother joined them, piquing Chen's curiosity to read the teachings herself. "I just thought it was such great a book, teaching people how to be good. I thought everyone should read it," says Chen.
Falun Dafa is an authentic mind-body cultivation system, intriguing Chen, since it not only offered qigong exercises that made the body feel boundless and light, it also emphasized improving one's character by assimilating to the universal virtues of truthfulness, compassion and tolerance.
One of the principles that stood out was thinking of others first, reminding Chen of her role to better society as an artist. Enamoured by the practice and how peaceful it made her feel, she began capturing her experiences on canvas.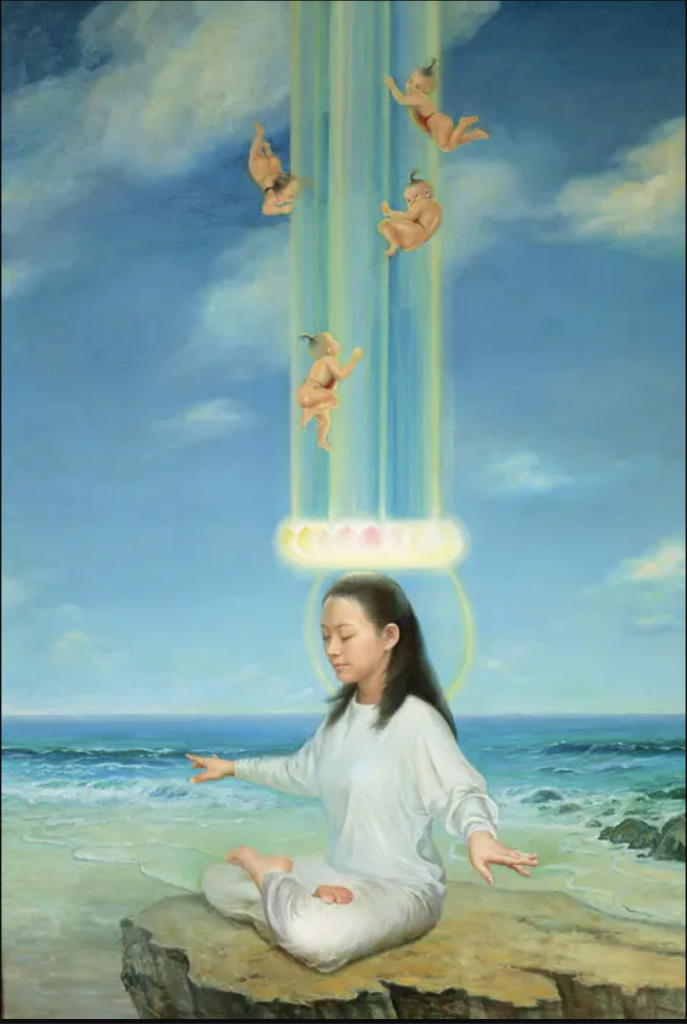 "In Harmony" — Chen's first oil painting — illustrates herself meditating on a cliff, like in Saipan, surrounded by clear water and a blue sky, reflecting her state of tranquility and connection with heaven. Cherubs — or heavenly children — play among an energy field shooting upwards from the crown of her head, connecting her wisdom with the infinite cosmos.
Highest Art
In 2001, Chen wanted to continue her art career in the West, so she embarked for Vancouver. But to her dismay, the art schools focused only on modern art. "Perhaps some people might think that classical arts are far from real life now," says Chen. "But I prefer orthodox and realistic art."
Traditional art and painting requires a deeper understanding of the fundamentals, but ultimately, she believes the difficulty is worth it. "The most important aspect of orthodox painting is conception — the moral values expressed in the work and the hidden meaning the artist wants to transmit to the viewers," she says. Then the artist focuses on the skills, such as proportion, shape, perspective, light, shade and colour. "One can reach certain proficiency for the latter through practicing and training. But the former depends on the author's cultivation of character, which is an accumulative, long-term process."
Works from the Renaissance, such as the Sistine Chapel, illustrate high art's connection with the divine. In classical art, the artists' strokes disappear so as to not draw attention to the skill of the artist but to portray the loftiness and beauty of heaven, an experiential transparent beauty beyond the human world.
She sees the relationship between traditional art, artist, and society to be interwoven and symbiotic. "Classical works often transmit positive and beneficent energy, which is good for the human body and soul, the power from the devotion and praise to gods." Both the artist's and viewer's realm of consciousness are raised while each depicts or admires heavenly scenes and beings.
Transcending Art
In 1999, the Chinese communist regime initiated a brutal suppression of Falun Dafa practitioners, targeting over 70 million innocent people — the largest scale persecution in modern history. After participating in activities in New York to raise awareness for the genocide, Chen awakened to a new calling.
She started painting scenes of Falun Dafa practitioners being persecuted for their beliefs, often depicting the juxtaposition of a practitioner's benevolent internal nature with their harsh external environments.

Her award-winning painting "Shock" illustrates an imprisoned Falun Dafa practitioner calmly levitating in a prison cell, exuding a compassionate aura that overpowers the prison guards, who cringe away from the light.
"It shows a Falun Dafa practitioner does not have any hatred or anger, and neither does she show pain or struggle when undergoing such horrible torture," says Chen. "It is a transcending attitude that only a cultivator can have, which is divinity manifested in the human world."

Despite the tragedy of the persecution in China, Chen sees a bigger picture, where she humbly embraces her role. "After carefully studying the beauty of nature and the human body, I can easily see it's impossible for human beings to be in control of the world," says Chen. "There must be higher beings that create such a flourishing and beautiful world, with higher wisdom." She smiles. "Artists are just gods' messengers in the human world."
Chinese Text by Rui Chen. English Text by J.H. White. Produced by Peggy Liu
Trending now: