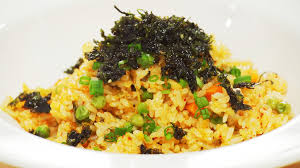 Kimchi Fried Rice Recipe That Takes 5 Min to Make!
Kimchi is essentially a pharmacy, and beauty store in one. This traditional Korean dish is rich in vitamin A, B1, B2, calcium, iron, and lactic acid bacteria. Today we are going to make Kimchi Fried Rice with CiCi Li. It only takes 5 min to make, and you can use a day-old rice for this recipe.
You will need:
1 cup cooked white rice
1/3 cup chopped kimchi
1/3 cup mixed vegetables
3 tablespoons oil
A pinch of salt
A pinch of pepper
A pinch of sugar
A dash of sesame oil
1 stalk of chopped scallion
1 tablespoon of Korean crispy seaweed
For more amazing Asian recipes check out CiCi's vlogs.