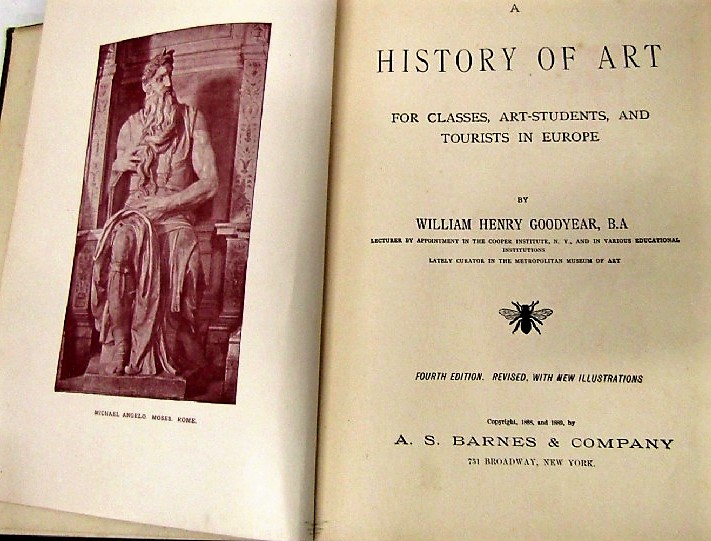 A History of Art by William Henry Goodyear Published in 1888. Free PDF Book

Name William Henry Goodyear might sound familiar to you, even if you're not an art student, architect or frequent Brooklyn Museum of Art goer, where he was a curator for almost a quarter of a century (from 1899-1923).
Goodyear was the very first curator ever hired by the Metropolitan Museum of Art.
New Haven, CT native, Goodyear was prominent architectural and art historian. He traveled to Syria and Cyprus with Friedrichs in 1869 where Friedrichs was engaged in negotiating the collection of Cypriot art amassed by Luigi Cesnola, the first director of the Metropolitan.  In 1870 Goodyear was in Venice, tracing the building methods to ancient practices of San Marco.  The same year he made an accurate study of the campanile of the Pisa cathedral a.k.a. "Leaning Tower of Pisa", concluding that its architects had been much more adept at its design than previous thought.
Goodyear developed a theory that medieval churches throughout Europe displayed curved lines, concave walls, widening naves and other asymmetries, that were not accidental phenomena created by settling stone or poor construction, but the original architects' deliberate inventions. Goodyear called these deviations "architectural refinements."
For almost twenty years, between the years 1895 and 1914, Goodyear conducted survey expeditions to Europe, Turkey, Egypt and Greece visiting medieval cathedrals, churches, and mosques, meticulously noting the measurements of piers, transepts, apses, etc. and taking numerous photographs of these details thoroughly documenting the occurrences of the refinements. The photographs taken during his expeditions became rare and invaluable records of medieval churches and cathedrals before the world wars, when most of these precious works of art were destroyed.
Goodyear believed the role of art for humankind development and growth is impossible to overestimate.